:: MEPET SUCCESSFULLY INSTALLS VAM PILOT PLANT::
:: November 2010::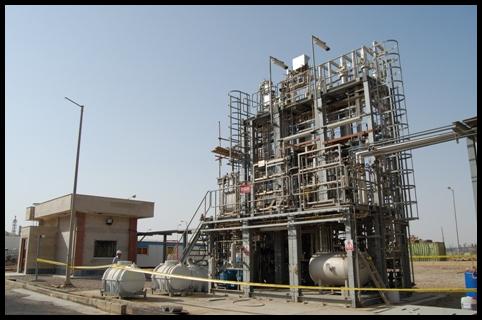 [November 2010] Middle East PetroChem Engineering & Technology (MEPET) successfuly installed the Vinyl Acetate Monomer (VAM) Pilot Plant at the client's petrochemical complex.
The modular VAM Pilot Plant with a capacity of upto 3.5 kg VAM per hour was constructed in The Netherlands together with MEPET's engineering partner, IMTECH. The pilot plant was then disassembled and shipped to the client's vicinity during the first quarter of 2010. Re-installation, troubleshooting and testing were completed successfuly at the last quarter of the year.
The VAM Pilot Plant process is developed by MEPET. The company is now looking into licensing its technology to interested partners.

Re-installation of the VAM Pilot Plant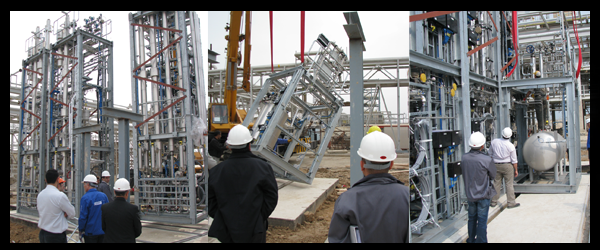 <<<< : >>>>
:: MEPET @ THE WORLD FUTURE ENERGY SUMMIT 2010 ::
:: 18 - 21 January 2010::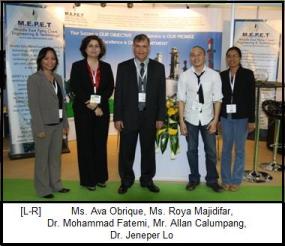 [22 January 2010] The WFES concluded on a high spirit of brightening up the hopes of a better outcome at the ensuing global climate change talks in Mexico, in contrast with results of the Copenhagen Summit.
The WFES which was an extraordinary assembly of large number policy makers, entrepreneurs, experts and activists from more than 130 countries across the globe ended with a categorical assertion that renewable energy is no longer the energy of the future 'but it has already arrived ', and that it can make a significant contribution in mitigating the grave threats of climate change.
"A monumental shift is taking place in the debates over energy and climate change. Nowadays nobody is asking whether clean energy should be adopted or whether climate change is really happening. Every country in every region is enthusiastically searching and adopting renewable energy as they are convinced of the impact of indiscriminate fossil fuel burning on the environment and climate,'' Olafur Ragnar Grimsson, President of Iceland said in his keynote address at the concluding session of the Summit. "The humanity is facing a financial crisis, a humanitarian crisis emerging out of the lack of means for subsistence for vast sections of people and an ecological crisis. Renewables have an important contribution to make in addressing all these forms of crises,'' Prince Albert Alexander, Louis Pierre of Monaco, Marquis of Baux said in his keynote address."
Unlike the Copenhagen Summit, the WFES could walk that extra mile in reviving the hopes on mitigating climate change threats because of its positive focus on the alternative solutions offered by the renewable energy, rather than getting bogged down by the disputes of reduction targets.
The Summit emphasised the need for cooperation among all the stakeholders, the policy makers, industry, experts and activists for developing renewable energy. Global and regional level cooperation must be strengthened in this area. Diversity of energy mix and policy frameworks for different countries was another issue that was emphasised at the discussions. The participants also spoke on the need for making renewables cheaper than present, and the governmental policies have an important contribution to achieve this, apart from mobilising adequate resources for research and development from private and public entities.
More than 23,000 people have attended the event, representing a 25 per cent increase over 2009, the organisers claimed in a statement here. The event, hosted by Masdar, the clean energy initiative of Abu Dhabi has welcomed representatives from across Asia, Europe, The Americas, Africa and
 the Middle East, this includes Middle East Petrochem Engineering & Technology [MEPET] headed by its President & Managing Director, Dr. Mohammad Fatemi.
The event has been hailed as a success by many, and is a further boost to Abu Dhabi's position as a renewable energy hub. Ed Milliband, Secretary of State for Energy and Climate Change for the United Kingdom said, "I think this is the centre of the clean energy revolution that is going on around the world."
The World Future Energy Summit has, this year, attracted more political engagement than ever before with more than 100 government delegations attending. The strong numbers are clear testament to the continued momentum that is building around renewable energy.
Attendance has exceeded expectations with figures reaching more than 23,000 attendees said Ara Fernezian, Group Exhibition Director at Reed, the show organisers. He went on to say, "The event has exceeded our original expectations by more than 15 per cent. Such record numbers of people involved is testament to Abu Dhabi's growing status as a hub for renewable energy."
Source: Click here

<<<< : >>>>
:: MEPET EXHIBITS @ WORLD FUTURE ENERGY SUMMIT 2009 ::
:: 19 - 21 January 2009::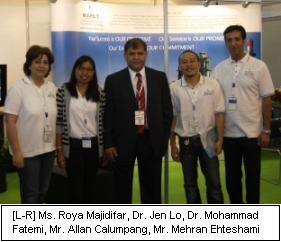 [22 January 2009] MEPET Team headed by the President & Managing Director, Dr. Mohammad Fatemi, successfully exhibited at the World Future Energy Summit [WFES] last 19-21 January 2009 held at the Abu Dhabi National Exhibitions Company [ADNEC] Center, UAE. The team includes Ms. Roya Majidifar [Executive Secretary], Mr. Mehran Ehteshami [Software Engineer], Dr. Jeneper Lo [Research Scientist], and Mr. Allan Calumpang [Process Development Engineer].

During the exhibition, various inquiries were entertained including waste to energy projects, plant optimization and debottlenecking, process engineering designs, and comparative studies.
The WFES 2009 was attended by 16,820 people from 79 countries who visited 359 exhibitors including MEPET. This figure includes the 2,634 delegates kicking of the energy debate in 2009 with some of the world highest leaders and renewable energy experts
<<<< : >>>>
:: DR. MOHAMMAD FATEMI MEETS WITH SABIC'S VICE CHAIRMAN ::
:: THE 3RD ANNUAL GPCA FORUM ::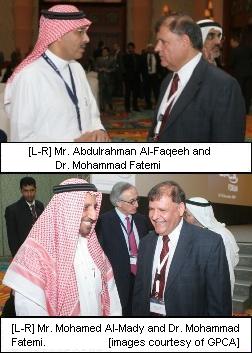 [4 Dec 2008] The 3rd Annual Forum of the Gulf Petrochemicals and Chemicals Association (GPCA) opened yesterday at Atlantis, The Palm, Dubai with a line-up of prominent industry figures and experts from around the world enlightening delegates on the impact of the global financial crisis and ways of meeting the challenges ahead in the region's petrochemicals and chemicals sectors.

The two-day event was inaugurated by GPCA Chairman, Mr. Mohamed Al-Mady, who is also Vice Chairman and Chief Executive Officer of Saudi Basic Industries Corporation (SABIC) in the presence of His Excellency, Abdulla Bin Hamad Al-Attiyah, Deputy Premier, Minister of Energy and Industry, Qatar; Chairman and Managing Director, Qatar Petroleum, and His Highness, Prince Saud Bin Abdullah Bin Thunayan Al Saud, Chairman of Royal Commission of Jubail and Yanbu, and Chairman of SABIC. A petrochemicals and chemicals exhibition was also opened alongside the Forum. [source: click here]
At the event, Dr. Mohammad Fatemi, MEPET President & Managing Director, talked informally with Mr. Al-Mady and discussed about MEPET's [existing/future] projects and collaboration. He has also talked with Mr. Abdulrahman Al-Faqeeh, also one of SABIC's top figures and at the same time a member of MEPET's Board of Directors.
<<<< : >>>>
:: MEPET @ DUBAI INTERNET CITY'S EXCLUSIVE GALA DINNER ::
:: LAUNCHING OF INDUSTRY WHITE PAPER::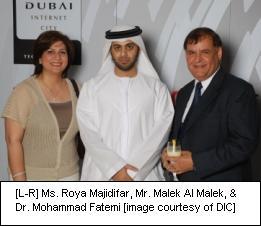 [27 October 2008] MEPET's President and Managing Director, Dr. Mohammad Fatemi, and Executive Secretary, Ms. Roya Majidifar, attended Dubai Internet City's [DIC] launching of this Major Research Report which identifies the Gap in IT Service Market for Region's Small and Medium Businesses. The dinner was held at Westin Hotel, Dubai, UAE last 22 October 2008.

Specific market opportunities for small and medium businesses (SMBs) in the IT sector have been identified, according to the region's first ever ICT White Paper study, commissioned by Dubai Internet City, the world's largest managed ICT cluster and a member of TECOM Investments.

Conducted by A.T. Kearney, one of the world's leading management consultancies in the ICT industry across IT and telecom segments, the study analyses the immense opportunities that lie in the IT service market for SMBs in the region today, especially in the hardware and packaged software segments.

Titled 'The IT Market – A Middle East Perspective: An Overview of Business Opportunities for Innovative New Companies', the White Paper identifies key success factors for SMBs operating in the region, providing an overview of the most common entry strategies and the general entrepreneurial environment. It also explores emerging market opportunities within the GCC market including Egypt, Jordan and some areas of Africa.

Leading a press conference on 15 October, Malek Al Malek, Executive Director of Dubai Internet City and Dan Starta, a Partner at A.T. Kearney, jointly highlighted the findings from the study. [source: click here]

<<<< : >>>>
:: COST SAVINGS THROUGH TECHNOLOGY INNOVATION ::
:: PETCHEM ARABIA 2008 PRESENTATION ::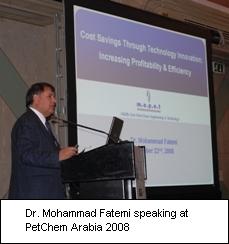 [23 October 2008] The use of technology innovation for increasing profitability and efficiency was the highlight of Dr. Mohammad Fatemi's presentation during PetChem Arabia 2008 held at Crowne Plaza Hotel, Dubai, UAE last 22 October 2008. He emphasized that Innovative Technology utilization plays an important role in influencing operation efficiency and cost savings, aside from Management Leadership, Employee Performance, Plant Reliability and Maintenance, and Safety & Loss Prevention.

He said that Management Software, as part of Innovative Tools, will allow the management team to monitor all aspects of the plant operation live, on-line and at all times. These software will also aid in plan execution of the strategic operational decisions including feed purchasing and/or shipment; product sales and/or shipments; regular scheduled and/or preventive maintenance. In addition, simulation software helps engineers to visualize methods and processes before implementation, which consequently reduces cost.

Currently, MEPET is developing custom made plant documentation software which can help organize plant data and information in one place which is readily accessible to plant managers, supervisors, operators and maintenance teams.
For more information about MEPET's software and/or to get a copy of Dr. Mohammad Fatemi's presentation, send an email to info@me-petrochem.com
<<<< : >>>>
:: MEPET ATTENDS THE 2ND IRAN OIL REFINING FORUM ::
:: 11 – 12 October 2008, Tehran-Iran ::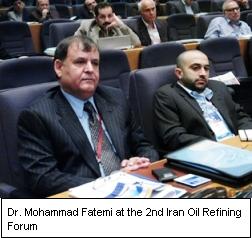 [13 October 2008] Dr. Mohammad Fatemi, MEPET President & Managing Director, attended the the 2008 Iran Oil Refining Forum (IOR-II) at the IRIB International Conference Center, Tehran-Iran. The 2008 Iran Oil Refining Forum (IOR-II) was organzed by the National Iranian Oil Refining and Distribution Company (NIORDC). The forum covered both scope of existing refineries as well as new grassroots refineries. In addition, upgrading technology and extra heavy crude oil process were also the major topics. Other major topics discussed were:
New License & Technology Development
Premier Options on Extra heavy Crude oil Refining
New Capacity in Refineries & heavy Residue Upgrading
Finance & Economy
Engineering & Construction Contractors Capability & Capacity
Oil Products regulations and improvement
HSE Standard Development
New Oil Industry Chemical, Catalysts & Equipments
Refining Industry Productivity & Margin Improvement
Gas Condensate & GTL New Fields of activity
For more information about the event, please visit their official website at:
http://www.iicic.com/ior/
<<<< : >>>>
:: MEPET Becomes Founding Partner of ::
:: Dubai Men's College's Link to Learning Program ::

[14 April 2008] Under the visionary leadership of His Excellency Sheikh Nahayan Mabarak Al Nahayan, Minister of Higher Education and Scientific Research, Chancellor of the Higher Colleges of Technology, Dubai Men's College is recognized for the quality and excellence of its academic offerings and its dedication to producing exceptional graduates serving the needs of the community.
Collaboration and collegiality are the cornerstones upon which Dubai Men's College has developed, the "Link to Learning" corporate partnership program enables organization and individuals to join in providing young UAE National students with stimulating and challenging learning experiences beyond the classroom. Hence, Dr. Philip Hicks, Director of Dubai Men's College, and Dr. Mohammad Fatemi, President & Managing Director of MEPET, formally signed the Link to Learning Partnership Agreement between both organizations this April 2008. In this partnership with Dubai Men's College, Middle East Petrochem Engineering & Technology (MEPET) is able set up and equip its own Catalyst Center for Research and Development laboratory within the vicinity of the College. In return, MEPET can provide related laboratory trainings to suitably qualified students and faculty using state of the art equipment under the guidance of MEPET experts and research scientists. This collaboration will let Dubai Men's College students experience real world industrial challenges while also allowing MEPET to tap fresh ideas from these young and dynamic engineering advocates.
As one of the founding partners of the Link to Learning Program, MEPET was given a token of appreciation by the Higher Colleges of Technology during the Dubai Engineering Challenges 2008 held last 14 April 2008.
<<<< : >>>>
:: Abu Dhabi hosts the GCC 11th Industrialists Conference ::
[Dr. Mohammad Fatemi joins as invited panelist for International
Investment in GCC Petrochemical Industry Discussion]*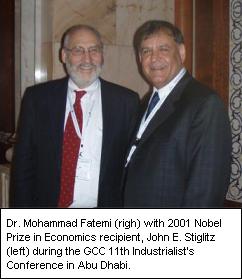 [22 January 2008] Under the patronage of H.H. Sheikh Mohammed bin Zayed Al Nahyan, Crown Prince of Abu Dhabi and Deputy Supreme Commander of the UAE Armed Forces, with the attendance of their Excellencies the ministers of industry in the GCC member states; Abu Dhabi Emirate hosts the GCC 11th Industrialists' Conference in January 2008.

The conference targets to create a vision of petrochemicals industry in the GCC in 2020.

The two-day conference agenda includes an open discussion session with their Excellencies the ministers of industry in the GCC, alongside 4 work sessions, subsidiary workshops, further to the accompanying exhibition. Dr. Mohammad Fatemi, President & Managing Director of Middle East PetroChem Engineering & Technology (MEPET), will be discussing on International Investment in GCC Petrochemical Industry together with Mr. Phil Parker, General Manager for New Business Development, Shell, Qatar and Mr. Abdullah Al Hagbani, Secretary General, Gulf Petrochemical & Chemical Association.*

On its part, the GCC Industrialists Conferences series which GOIC is accustomed to conduct is considered a great chance for bringing together the key industrialization stakeholders in the region with the target of drafting a common vision on the important strategic issues of the industrial sector; the subject matter of this 11th conference is a key issue for decision makers in the GCC.

From a statistical perspective, statistics indicates that the average of gulf investment value growth in chemicals and petrochemicals between 2000 - 2006 was 5%; as it increased from US D 70 billions, thus constituting 59% of the total gulf investment in the processing industries which equals some US D 118.3 billions. On the other hand, workforce in this sector reached some 163,134 workers in 2006, with a growth rate of 4.9% since 2000 when there were 122,735 workers.

The petrochemicals industry is considered amongst the dynamic industries due to the multiplicity and density of its products and complexions as well as its wide rage of applications in the different fields of modern life. As such, this conference provides the opening for GCC member states to restructure their processing industries in a way that helps them achieve more integration, interrelation and balance, and thus providing it with more endurance and competitiveness in the global markets.
Original source: Click here
Click here to request for presentation document
*added information
<<<< : >>>>
:: MEPET Exhibits at the 1st World Future Energy Summit ::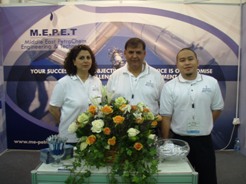 [3 January 2008] The World Future Energy Summit 2008 [WFES08] is held under the patronage of HH General Sheikh Mohammed Bin Zayed Al Nahyan, Crown Prince of Abu Dhabi and Deputy Supreme Commander of the UAE Armed Forces and is hosted by Masdar, Abu Dhabi's multi-billion dollar, multi-faceted response to the need for a global focus on alternative energy and sustainability.
Middle East PetroChem Engineering & Technology (MEPET) is excited to join the summit since it will provide a unique meeting opportunity for academics, financiers, entrepreneurs, innovators, and the companies behind the cutting edge technologies and systems of sustainable energy alternatives to meet, discuss, and bring to reality a foundation of alternative energy solutions for a cleaner future.
The summit conference focuses on the following fields: Concentrating Solar Power (CSP), Photo-Voltaic (PV), Concentrating PV, CO2 Capture and Storage, Sustainable Desalination, Waste to Energy, Bio-Fuels, Hydrogen and Fuel Cells, Wind: Onshore and Offshore, Energy Efficiency in Industry, Green Construction, Marine: Wave and Tidal; and Clean Combustion.
<<<< : >>>>
:: Dubai-Hamburg Business Forum 2007 Kicks off Today ::
[Dr. Mohammad Fatemi Speaks for the Energy Sector Industry in Dubai]*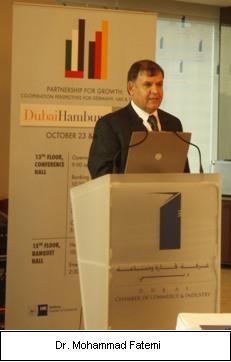 [23 October 2007] A large number of representatives of leading economic establishments, decision makers and businessmen from Dubai, along with more than 50 CEOs, business leaders and directors of top German companies from Hamburg, will attend the Forum.

The Forum aims at exploring new horizons in the economic relations between Dubai and Hamburg. It also aims at enhancing bilateral cooperation between the two business communities and introducing the investment opportunities available in Dubai and Hamburg, due to the similar economic and strategic features that both cities share. The event offers a chance for the UAE businessmen and decision makers to meet their German counterparts from Hamburg to discuss potential bilateral cooperation in a number of economic sectors.

HE Engineer Hamad Buamim, Director General of Dubai Chamber, highlighted the Chamber's interest in making this Forum a success for it would help enhance bilateral economic ties between Dubai and Hamburg and provide a chance to establish joint ventures in different economic sectors such as aviation, banking & finance, energy, healthcare, foreign trade, logistics and maritime.

'Dubai Chamber has already completed its preparations to successfully host the Dubai-Hamburg Business Forum 2007. The event represents a major turning point in the developing economic ties between Dubai and Hamburg, thanks to the Forum's significant schedule which will include a number of lectures, presentations and discussions to be run by elite speakers from both countries. They will discuss the potentials of developing real cooperation in a number of active economic sectors in order to come out with a number of recommendations that would help enhance the economic partnership concept between Dubai and Hamburg,' said Buamim.

The program of the Forum includes a number of business sessions in which the speakers from both cities will introduce the participants to the development aspects of the economic sectors concerned. In the banking & finance sector, a representative from the National Bank of Dubai  (NBD) will deliver a lecture about the bank's leading experience and a summery of the banking sector in Dubai. Representatives from Dubai Hospitals, Dubai Healthcare City and Dubai Biotechnology and Research Park (DuBiotech) will introduce the German business community to the aspects of the prosperous healthcare sector in Dubai.

Other representatives from the Dubai Maritime City and ARAMEX will also talk about the logistics and maritime services in Dubai, while other representatives from the Emirates Central Cooling Systems Corporation (Empower) and the Middle East Petrochem & Engineering & Technology (MEPET), represented by Dr. Mohammad Fatemi, its President and Managing Director*, will conduct two separate lectures on the recent activities of energy sector in Dubai.

The Director General of Dubai Chamber noted that Germany, which enjoys the third largest economy in the world and the biggest in Europe, is the biggest strategic partner to the UAE, as there are 5 German trading representative centers operating in the UAE, as well as the German Business Council which is one of the most active business councils that operate under the umbrella of Dubai Chamber. There are 500 German companies working in Dubai as Dubai's total non-oil trade with Germany reached Dhs24bn in 2006.

Original source: Click here
Click here to request for presentation document
*added information